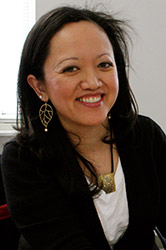 Dr. Anna Guevarra is the Director, Asian American Studies, at the University of Illinois at Chicago. She spoke at the Human Rights Tribunal related to the abuse of a Filipino domestic worker who joined a Hong Kong family in Canada. She is an expert in immigrant labour; global carework (specifically domestic work, with a focus on Hong Kong); gender and migration; Filipino and Philippine studies; race and ethnicity. Her report was submitted as evidence and is reproduced – in full – from court records below.
[72] Dr. Guevarra's report says that the stereotypes or prejudices that apply to Filipino domestic workers revolve around characteristics that mark them as "docile" workers. That is, Filipino domestic workers are often marketed as obedient, hardworking, Godfearing, loyal, honest, cooperative, and compliant. At the same time, she says that they are also promoted as highly educated, skilled, and exhibiting a high tolerance for stressful conditions.
[73] Dr. Guevarra says that, in general, Hong Kong employers typically stereotype foreign domestic workers, and especially Filipino women, as carrying a particular kind of "modernized" sensibility that makes them morally suspect. Hong Kong employers are said to perceive Filipino domestic workers' sense of independence and readiness to leave 7 their families in the Philippines not as a sign of filial piety, but instead, as a sign of financial desperation that could lead to acts of transgression. She notes that these perceived transgressions are often of sexual nature, such as seducing a male member of the household or engaging in sideline sex work for the purposes of permanent residence and financial security. Thus, the Filipino workers are often seen as a threat to the female employer of the household. As a result, Filipino domestic workers' physical appearance or attractiveness, such as their clothing, hairstyle, and physical adornments have all become routinely subject to scrutiny and discipline.
---