Share the post "PRESS RELEASE – Official Launch of HK Helpers Campaign"
PRESS RELEASE 20/1/14:

Who? – 6 months in the making, we are an independent Hong Kong campaign formed by a group of local activists to promote the rights of local Foreign Domestic Workers.
What? – Our objective is to amplify the voices of helpers by linking them, and relevant NGOs, with those in the media, law, politics and academia. We believe helpers are the backbone of the middle class and engine of the Hong Kong economy.
Why? – The ultimate aim is to apply pressure to successfully achieve our three basic campaign points. To (1) scrap the 'two-week' law, (2) to enforce maximum working hours and (3) to end illegal agency fees. The live-in law and two-week rule discourage helpers, like Erwiana, from escaping abusive situations, whilst illegal agency fees can leave newly arrived maids in debt bondage for months on end.
How? – We will achieve our objectives via a public multimedia advocacy campaign and by lobbying key-players one-on-one. We also intend to pursue our campaign points through the courts with the support of our legal advisor, Robert Tibbo. Mr Tibbo is a top human rights lawyer in Hong Kong who advises Vision First. He also advised Edward Snowden and spoke about the Erwiana case in a front page South China Morning Post article today.
We have worked extensively with local stakeholders to form our 3 simple campaign points and have a comprehensive action centre at www.hkhelperscampaign.com/support-us/ along with a special justiceforerwiana.com centre. There are dozens of ways listed for the public to help enact change.
We are also building a 'For Helpers' section 
www.hkhelperscampaign.com/are-you-a-helper/
 This is our response to recent abuse cases and lists helplines, do/don'ts and advice in 6 languages – search engine optimised to assist domestic workers in danger or seeking help.
All of our pages are fully referenced and will be translated into Chinese next month. All of our content, photos, videos and articles may be resyndicated freely with permission. For much more about us, see www.hkhelperscampaign.com/about-us
Campaign spokespeople contacts today: 
Tom Grundy: [contact us]

Meredith McBride: [contact us]. Meredith recently penned a campaign Op-Ed for the South China Morning Post. 
Robert Tibbo, our campaign legal advisor, is available to speak about the legal situation and the Erwiana case today on 

6178-9075

.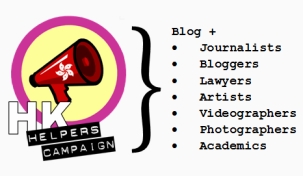 Tom Grundy, 

HK Helpers Campaign.



Share the post "PRESS RELEASE – Official Launch of HK Helpers Campaign"